Offering a product option on your PrestaShop store has several advantages
Increase the average cart of your customers.
Encourages your visitors to complete their purchases.
A reassured customer is a satisfied customer!
Here, we will add a delivery insurance or carrier insurance to our PrestaShop store.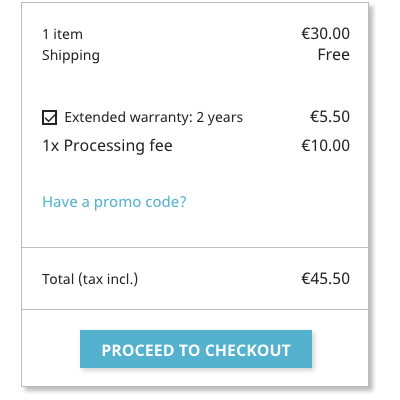 After installation, the module is available from the menu Catalog > Options, Fees and Discounts.
1
Click on Add an Option button, at the top right.
2
Give a name to your PrestaShop insurance, for example: Delivery Insurance.
Choose whether this option should be pre-selected.
3
In the Conditions tab, you can set the conditions to display insurance.
4
In the Actions tab, you set the amount of insurance, which can be fixed or a percentage of the order.
5
In the Display tab, select the pages on which the option will be displayed.
Then click the Save button.
Fast, Simple and Efficient. Delivery insurance is now available to your customers.